Donate Qurbani 2023 Online
Booking for Qurbani 2023 has been closed. Please donate in other categories.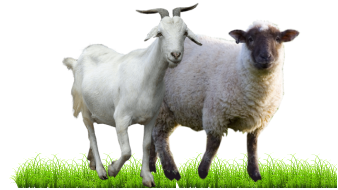 Qurbani - Goat/Sheep

Introduction
Qurbani, derived from the word "sacrifice," is an annual Islamic practice observed during the month of Dhul Hijjah. Muslims worldwide sacrifice animals, such as goats, sheep, cows, or camels, to reflect the willingness of Prophet Ibrahim to sacrifice his son Ismail for the sake of God. The meat obtained from the sacrificial animal is then distributed to those in need. In Pakistan, where food scarcity and hunger pose significant challenges for the poor and middle-class communities, Qurbani emerges as a vital source of relief. By providing nutritious meat to those in need, Alkhidmat Foundation brings hope and nourishment during difficult times. We deliver your Qurbani to the needy of neediest and most deserving families and individuals, including homeless people, orphan children and those marginalized segments of society who disguise their social status because of self-esteem. Give your Qurbani to Alkhidmat Foundation and share joys of Eid-ul-Adha.
Donate your Qurbani to distribute nutritious-meat to over 80 million needy Pakistanis including flood affectees on the occasion of Eid ul Adha 2023.
Why donate Qurbani to Alkhidmat
Support Alkhidmat Foundation's Qurbani campaign to alleviate hunger among the needy. Your generous donation will provide nutritious meat to impoverished families, orphan children, and homeless individuals. For many of them, Eid-ul-Adha is the only occasion to savor meat throughout the year. Join us in making a meaningful impact and spreading joy this Eid-ul-Adha by donating to Alkhidmat Foundation's Qurbani program.
Hustle-free transparent service
Healthy and fit animal
Shariah-Compliant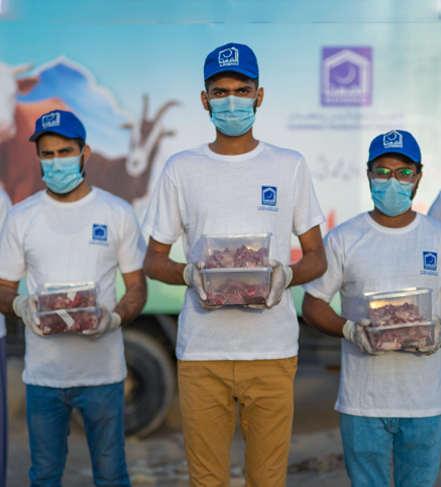 Hygienic process
Distribution to most deserving
Professional butchers
Impact of Alkhidmat Qurbani 2022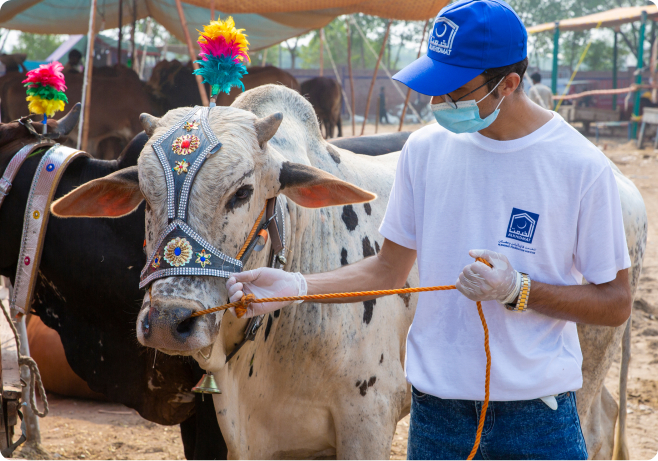 Cows

4,933

Goats

2,199

Beneficiaries

1,025,178
Ways to Donate Qurbani
Donate Qurbani Online
You can donate Qurbani online using any Visa or MasterCard. Donation through Jazzcash is also available.
Bank
Transfer
Direct deposits or transfers can be made into our accounts at any of the banks. Select your preferred bank from the list.
Doorstep Collection
You can donate through cheques or bank drafts, simply call at 0800 44 44 8 or 0304 111 4 222 and Alkhidmat's representative will collect it.
Learn Qurbani
𝐂𝐚𝐭𝐭𝐥𝐞 𝐇𝐨𝐮𝐬𝐞 𝐄𝐧𝐬𝐮𝐫𝐞𝐬 𝐓𝐨𝐩-𝐧𝐨𝐭𝐜𝐡 𝐂𝐚𝐫𝐞 𝐟𝐨𝐫 𝐒𝐚𝐜𝐫𝐢𝐟𝐢𝐜𝐢𝐚𝐥 𝐀𝐧𝐢𝐦𝐚𝐥𝐬.
𝐔𝐧𝐢𝐭𝐢𝐧𝐠 𝐟𝐨𝐫 𝐚 𝐍𝐨𝐛𝐥𝐞 𝐂𝐚𝐮𝐬𝐞----Alkhidmat Foundation Pakistan
Alkhidmat Qurbani Fi Sabeel Lillah-2022 Drive Reach out
How and where Alkhidmat Foundation Pakistan Performs Your Donated Qurbani?
Purchasing for Animals for Qurbani - Alkhidmat Foundation Pakistan
Frequently Asked Questions
What means Qurbani?
What is the Qurbani amount?
Who is Qurbani mandatory for?
What Qur'an says about Qurbani?
What are the rules of Qurbani?