Donate Via: Debit/Credit card
You can now make donations using your debit/credit card from any corner of the globe, at any time. It's a convenient and secure way to support from wherever you are.
Direct Deposit
Acc. Title:

Al-Khidmat Foundation Pakistan

Bank Name:

Meezan Bank

IBAN:

PK35 MEZN00 0214 0100861151

Swift Code:

MEZNPKKA
Current Situation in Libya
Thousands of families in Libya are in urgent need of humanitarian assistance after devastating floods, which have claimed the lives of at least 5,000 people with another 10,000 still missing. Alkhidmat Foundation Pakistan is urgently appealing for your support. The worst flooding from Storm Daniel in the port city of Derna has destroyed homes besides causing damage to vital infrastructure. Alkhidmat Foundation is committed to provide immediate emergency aid, including food packs, medical aid, and mattresses. Alkhidmat is working in collaboration with international partners to deliver relief supplies. Your donation to the Libya Floods Appeal can make a difference in the lives of those affected by this tragedy. Join us in offering hope and relief to the people of Libya during their darkest hour.
More than 5,000 people dead and 10,000 missing after flood in Libya.
Video Case Studies
These video case studies offer a glimpse into the devastation wrought by the Morocco earthquake. Through firsthand footage, witness the extensive damage and understand the pressing needs of the affected communities.
Ways To Donate
Become Volunteer
Are you looking for an opportunity to make a difference guided by Islamic principles? Become a volunteer with Alkhidmat Foundation and discover the transformative power of volunteerism and change lives.
Bank Transfer
Direct deposits or transfers can be made into our accounts at any of the banks. Select your preferred bank from the list.
Doorstep Collection
You can donate through cheques or bank drafts, simply call at 0800 44 44 8 or 0304 111 4 222 and Alkhidmat's representative will collect it.
Current Needs
In the wake of Libya Flood, countless families, including many women and children, have been left with only hope. They urgently require essentials like cooked meals, dry ration packs, sheltering tents, medical assistance, and hygiene kits. By donating now, you can support Alkhidmat Foundation in its mission to safeguard and uplift thousands of vulnerable lives during this crisis.
Emergency Flood Relief Appeal For Libya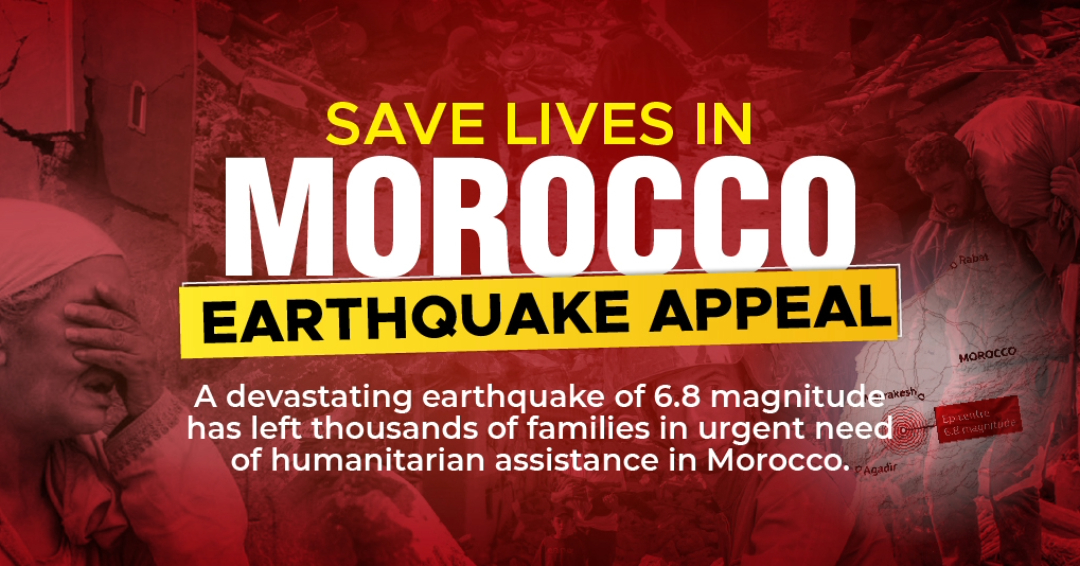 September 15, 2023
Morocco's Earthquake Tragedy
General Questions
How is Alkhidmat working in Libya?
Can I donate from outside of Pakistan?
Are there other ways I can help besides donating money?